D-BAL (DIANABOL)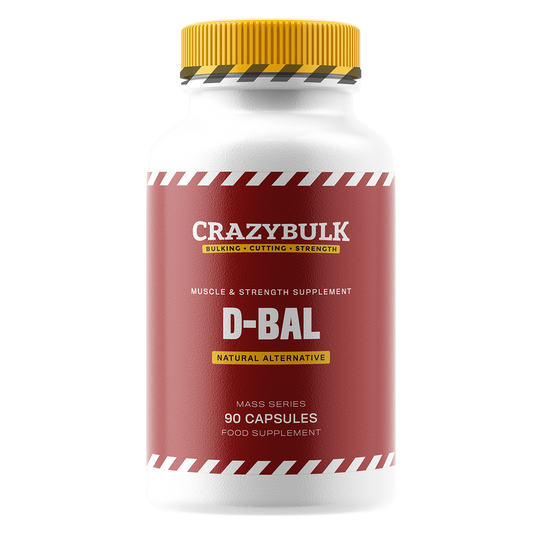 MASSIVE MUSCLES
SERIOUS STRENGTH
RAPID RECOVERY
D-BAL (DIANABOL)
1 x D-BAL (DIANABOL)
Retail: $99.99
2 x D-BAL (DIANABOL) + 1 Free
Retail: $299.99 Savings: $120.00
SUPPLEMENT FACTS
Serving Size: 3 capsules per day
Serving per Bottle: 30
| | Amount Per Serving | %DV |
| --- | --- | --- |
| Vitamin D3 (Cholecalciferol) | 7.5 mcg | 14% |
| Magnesium (from Magnesium Oxide) | 60 mg | 38% |
| MSM | 800 mg | * |
| L-Isoleucine | 300 mg | * |
| Suma Root Concentrated Extract 2:1 (Pfaffia paniculata) | 200 mg | * |
| Ashwagandha (Withania somnifera) | 200 mg | * |
| Tribulus Terrestris (Fruit) | 75 mg | * |
| Sodium Hyaluronate (Hyaluronic Acid) | 30 mg | * |
* % Daily Value (%DV) not established
Other Ingredients: Hydroxypropyl Methylcullulose (Capsule), Microcrystalline Cellulose, Silica, Magnesium Stearate.
Results with our D-BAL (DIANABOL):
MASSIVE GAINS & MUSCLE STRENGTH
USE FOR:
Fast muscle gains, increased strength, bridging between cycles for maintained gains
WHAT IS IT?
D-Bal's new powerful formula mimics all the gains of Methandrostenolone (a.k.a. Dianabol, the granddaddy of steroids) without all the side effects. It's the leading, safe alternative to Dianabol. If you want gains, you want D-Bal.
HOW IT WORKS
We combined a unique selection of ingredients to do more than just increase strength and muscle mass. D-Bal's special formula helps you in several essential areas to empower AND treat.
NEW FORMULA – We made it 7x stronger and added loads of prime ingredients to the mix. Curious which ones? Take Ashwagandha, which increases your VO2 max, aids your total body fat reduction, gives you leaner muscle while bulking AND lowers your cholesterol. An all-around powerhouse herb!
With D-Bal, it's not just about the gain; we also help you sustain.
That's why our new formula includes MSM to reduce muscle soreness, Hyaluronic acid to speed up bone and tendon healing, and many more powerful ingredients. No wonder this superstar supplement is our bestseller!
Our new D-Bal is everything you know, but stronger and more powerful. So what are you waiting for? Order your new D-Bal today!
LEGAL Dianabol (Methandrostenolone) Alternative
SAFE Natural Ingredients
FAST Muscle Gains
SUPER Strength and Stamina
GREAT Focus and Drive
RAPID RESULTS Within 30 Days
FREE For Every 3rd Item
FREE Worldwide Delivery
And absolutely NO Needles or Prescriptions